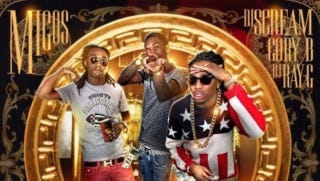 Migos, a weirdo rap trio out of Atlanta, is prolific. In fact, they just dropped another new mixtape today. They're also prolific yellers. So I created a short guide to you about what exactly they are yelling in the background of their tracks:
---
QUAVO!
Quavo is one third of Migos, aka 22-year-old Quavious Marshall.
---
TAKEOFF!
Takeoff is another member of Migos, 19-year-old Kirshnik Ball. He's Quavo's nephew.
---
OFFSET!
This refers is the third member of Migos, Kiari Cephus, who is also Quavo's 21-year-old cousin. He was benched from February until October, serving a short prison sentence due to a probation violation.
---
BANDO!
The Bando is what Migos calls the house they all share. This is also a general term that's interchangeable with Trap for a house that's used to make and sell drugs. Bando has been immortalized in song-form.
---
SMASH!
Generally smash! refers to getting down with chicks. But it can also be an expression of excitement. Migos says this a lot, in a lot of songs. (Skip to 2:29 where you learn they for sure want to smash Miley Cyrus.)
---
WHIP WHIP!
While you may know whip as slang for a hot car, in this case, Migos is generally talking about whipping a brick or cooking drugs. (Start at around 1:20)
---
JUST WAIT ON IT!
"The album coming September, just wait on it!" is a line uttered on the Versace remix. Drakes album, Nothing was the Same dropped September 24.
---
THEY SNAKES!
Those are snakes you're looking at on the Versace label. Related, Migos wears a lot of Versace shirts and jewelry.
---
MIGO!
Self-explanatory. They're referring to themselves.
---
QC!
This is the name of Migos' label, QC Independent. The QC stands for Quality Control.
---
SKIR! SKIR!
Skir is a noise a fast car makes when you slam on the brakes in a nice-ass car. (Skip ahead for a line about "flexin' in the Aston Martin.")
---
FRAN-A-LIN
As in Benjamin Franklin. As in the face on hundred dollar bills.
---
WOO! or WOO WOO!
An expression of excitement. Uttered often.
---
GRAMMY!
Awards given every year by the American National Academy of Recording Arts and Sciences for achievement in the record industry. As evidenced in the Trophies Remix, Migos wants a Grammy.
---
*VARIOUS UNSPOKEN KARATE AND/OR TOUCHDOWN SOUND EFFECTS*
Migos seem to be big fans of Jackie Chan, according to several mentions of the karate legend in their songs. Thus, *swish, woo, swat.* They are also football fans, as evidenced by their beaucoup spot-on sports references, and the interchangeable karate/long pass sound effects they make in "Emmitt Smith."
This is just a small sample of the things Migos yells. They yell a lot. Please feel free to weigh in with your own interpretations below.