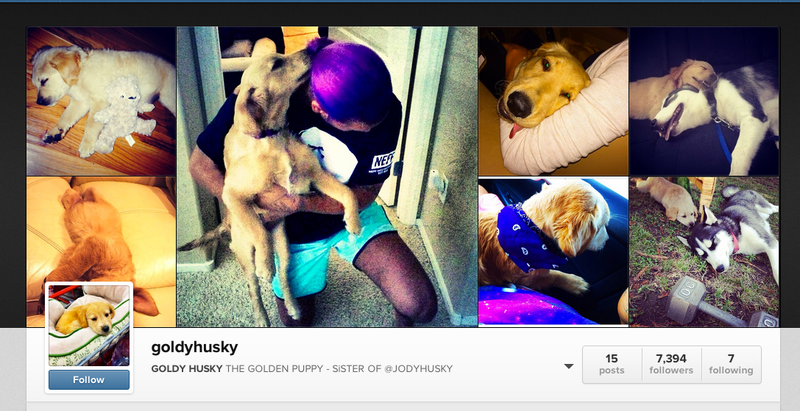 Riff Raff now has three dogs. One of those dogs, Goldy Husky, has not been heard from in months. We need to know where Goldy Husky is.
Riff Raff introduced Instagram to his new pup, Kody Husky last night. Kody, younger brother to Riff's original dog, Jody Husky, is part wolf, part husky, and he's a real stunner. However, noticeably absent from Kody's introduction was mention of Goldy Husky, Riff Raff's golden retriever. This presented a problem: Goldy virtually disappeared off social media months ago. Riff Raff stopped posting about her and didn't say anything about where she went. So, where's Goldy, Riff?
The tale of Riff Raff's dogs is pretty easy to track via social media, but at a certain point, things stop adding up. Riff Raff adopted Jody Husky first, back in fall 2013:
This past July, Riff's dog family grew, with the addition of the gorgeous Goldy Husky.
You see Riff Raff instragraming his pooch pals all the time. He seems to like them, at least enough to feature Jody Husky in the album artwork for Neon Icon.
But Goldy posts came to a full stop several months ago. Mr. Raff still posts about Jody quite often, as recently as Monday. But Goldy hasn't been seen in a photo with his owner since October. In fact, Goldy hasn't been pictured since October at all.
It looks like Goldy's been completely scrubbed from Jody Husky's Instagram account. Pictures that used to be there are gone, I had to find them on other Instagram hosting sites. Here is one of the only family photos I could dig up, before Goldy's disappearance.
From the looks of it, Riff Raff either gave away or got rid of or lost Goldy Husky. He also may have killed the dog. This isn't outside the realm of possibility; Riff once dyed Jody completely blue. But Jody lives on. Goldy, on the other hand, has fallen off the face of the earth. Riff Raff shouldn't have one dog, let alone three. Especially when one has gone missing. Riff Raff definitely shouldn't be allowed to have more dogs until he answers questions as to Goldy's whereabouts. She's just a little pup in the world, she can't survive out there for long.
Answer me, Riff Raff: What happened to Goldy Husky? What the FUCK happened to Goldy Husky?
I have emailed Riff Raff's publicist and will update when I have a response.